Sumner is vulnerable to:
Earthquakes
Flooding
Pandemic
Storm Surge
Tsunami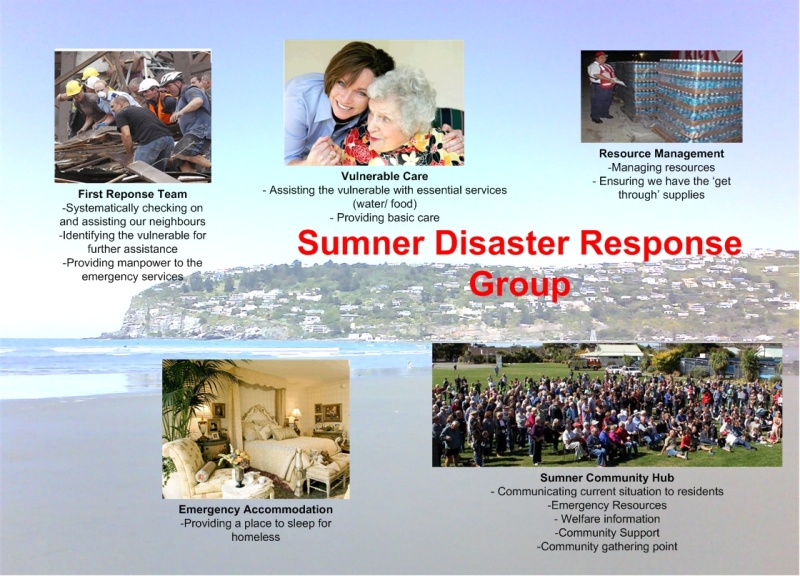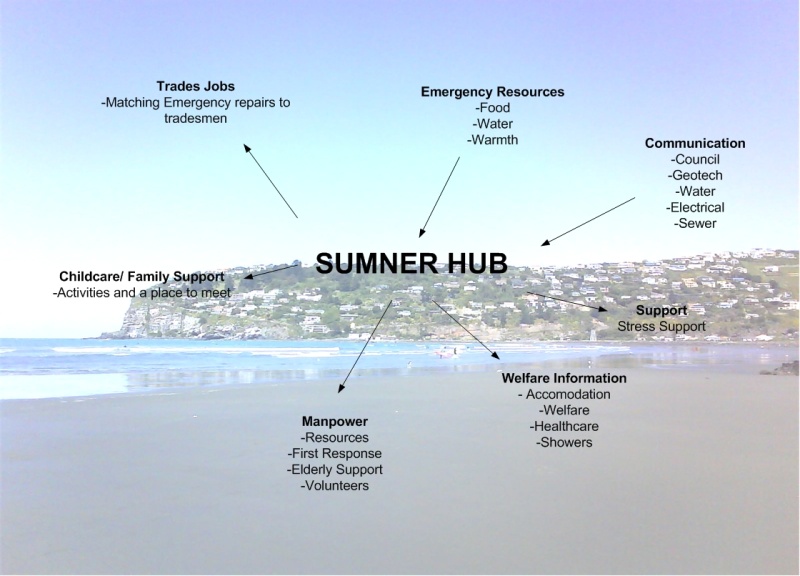 What the Sumner Hub will do in the event of a natural disaster in Sumner?
In 2011 the Sumner Hub in conjunction with The Sumner Disaster Response Group planned an appropriate structure, volunteers, resources and contacts to cope with being cut off for 5 days. In 2017 this group disbanded.
The Sumner Hub welcomes your involvement to reinstate this group as Civil Defence will not come to our aid. In the days after a disaster, our community will be responsible for itself.
The Sumner Disaster Response Group:
Below are the objectives of the group. We need to reinstate this group into a cohesive and effective community organisation.
Objectives:
There is an effective disaster response group with a plan to manage in a disaster.
There are a structure and people to fill that structure (with backups and a manual to assist).
We will have the resources and method of communication to look after those made homeless, the elderly and the vulnerable.
We will coordinate with local and external agencies for assistance and information.
We will have a group of volunteers who will assist and know their roles.
We have a dedicated home at the Sumner Rugby Pavilion or Van Asch College and the resources ready to go to enact our plan immediately following the disaster.
Non-vulnerable residents will be prepared so as not to tax emergency resources. We will be the center for information for the community.
People will know where we are and what we do.
What's in, What's out?
We will be responsible for ensuring residents 'get through' the emergency, providing care for the homeless or vulnerable.
We will not be responsible for medical assistance – however we will coordinate with the Sumner Voluntary Fire Brigade, surf clubs, and Medical Centre.
We will provide information and communication for local residents.
We will attempt to provide water for the community (stored at Van Asch and top of Scarborough Hill).
We activate when
water and power are cut off for an extended time
access in and out of Sumner is cut off
building collapse
water inundation.
What does the Disaster Response Group do?
See below for a pictorial overview First Response – check on our neighbours systematically vulnerable care – check in on the most vulnerable in the community and provide them with the essentials and ongoing care emergency accommodation- for those made homeless resource management – Making sure we have to get through supplies Sumner Hub (based at rugby club or Van Asch) – communication and support.
Where do we meet?
The primary location is at the Sumner Rugby/ Cricket Pavillion at St Leonard's Square. The secondary location is one of the flats at the back of Van Asch (near Evans Pass).
What can you do?
Volunteer to:
Help manage the response and especially the preparation for it (we need your assistance and commitment now)
A first responder (search and rescue) and on-going help to assist those in need (we need to record your contact details)
A vulnerable care provider (we need to record your contact details)
An administrator
Help run the Emergency Response Hub
Register and assist as a tradesperson - builders, plumbers, electricians are all needed.
Register:
A vulnerable person you may know
Donate bottled water, canned food, signs, generators, clipboards, stretchers walkie-talkies etc.
Donations of equipment can be made to Kieron Kerr and money donated via the Sumner Residents' Association (ASB 12 3483 0001983 00).
What you can do in the event of a disaster:
Have an evacuation plan, 25 liters of water stored, enough food to get you and your family through for 3-5 days.
In a tsunami event we ask that those living on Richmond, Clifton or Scarborough open their homes to 'host guests' from the valley. We suggest that leaving your green bin out is an obvious invitation that your home is available for others.